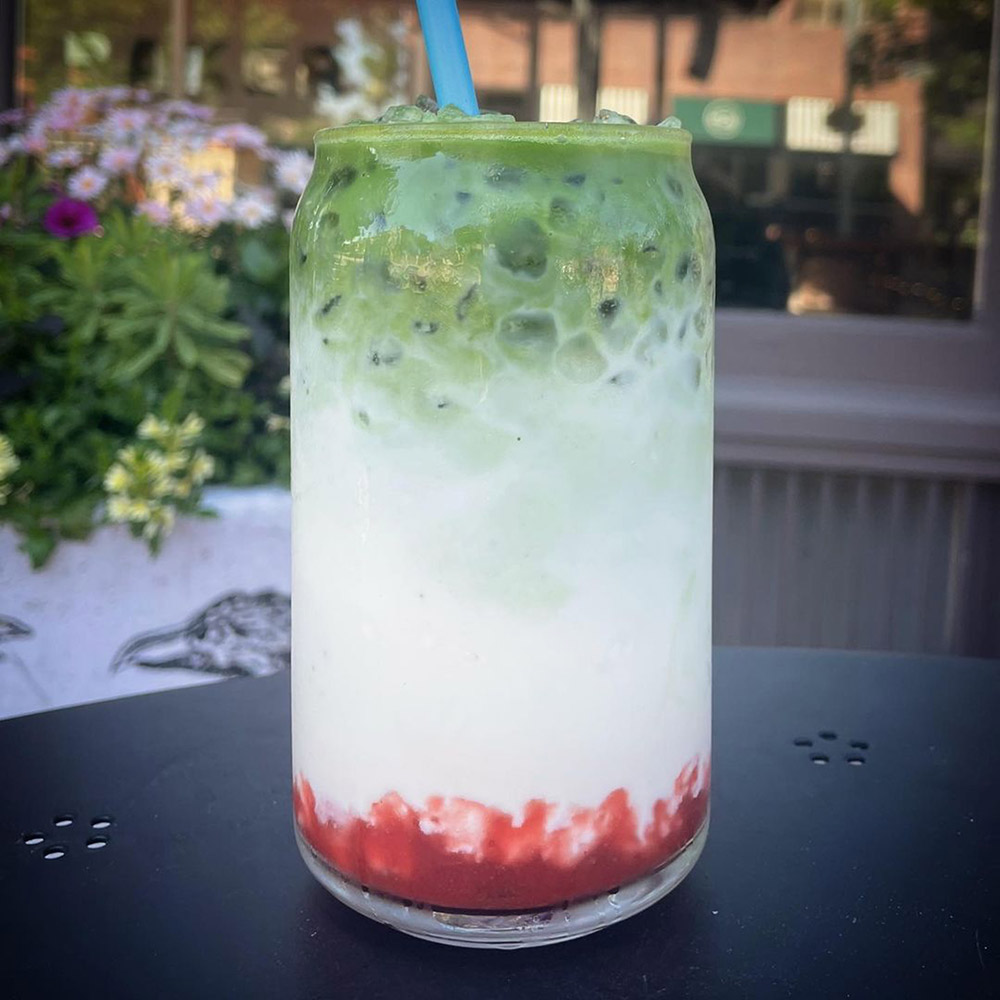 Step into a universe of flavors with our iced matcha collection. Using organic ceremonial grade Japanese matcha as our base, we've infused contemporary tastes like ripe strawberries, tangy blackberries, sweet maple, classic brown sugar, and tropical pineapple. Whether you're a matcha aficionado or a flavor adventurer, our diverse range promises a refreshing and memorable experience. Join us for a delightful matcha journey that marries the best of tradition and innovation!
Nutrition Facts
Milk Options:
Whole, Skim, Oat, Almond, Half & Half, Heavy Cream
No Extra Charge for Alternative Milk
Other Sweetener Options:
Vanilla, Chocolate, Caramel, Chai Spice, Sugar-Free Vanilla, Sugar-Free Chocolate, Sugar-Free Caramel, Honey, Lavender, Pineapple, Strawberry, Pure Maple, Blackberry
About Our Iced Matcha
Introducing: Our Iced Matcha Flavor Spectrum 🍵🍓🍍
Unearth a world of flavor with our range of iced matcha drinks, a unique fusion of the venerable Japanese matcha tradition with a modern twist of delightful flavors. From the serene tea ceremonies of ancient Japan, we bring you the celebrated health benefits and distinct taste of matcha, now married with an array of alluring ingredients.
Strawberry Matcha 🍓: Dive into the luscious sweetness of ripe strawberries, combined with matcha's earthy notes. A symphony of vibrant flavors that will dance on your palate.
Blackberry Matcha 🍇: Experience the deep, tangy undertones of blackberries, elevating the green richness of matcha to a whole new realm.
Maple Matcha 🍁: Relish the golden touch of maple, its sweet sap infusing the matcha with a coziness perfect for any season.
Brown Sugar Matcha 🍯: A classic flavor enhancer, brown sugar deepens the taste profile of matcha, making each sip a journey of layered sweetness.
Pineapple Matcha 🍍: Dive into tropical freshness with the zesty punch of pineapple, a burst of sun in every sip, set against the serene background of matcha.
Did you know? Matcha's verdant hue and one-of-a-kind flavor profile has made it a star ingredient, evolving from revered tea ceremonies to avant-garde culinary delights. It graces everything from delicate desserts to robust beverages, and even some surprising savory dishes.
Join us and embark on a flavor odyssey with our range of iced matcha beverages. Each cup is a harmonious blend of matcha's traditional earthiness with contemporary flavor notes. Whichever you choose, be prepared for an unforgettable, rejuvenating experience.